Bevoman Triathlon is the 2017-2018 USAT South Midwest Collegiate Conference Championship race, hosted by and benefiting Texas Triathlon at the University of Texas at Austin. This forth annual event will take place on April 15th, 2018 and will serve as a great tune-up race for collegiate athletes heading to USAT Collegiate Club Nationals.
Bevoman will feature an open division, allowing anyone to race alongside some of the fastest collegiate triathletes in the nation at Pace Bend Park in beautiful Texas Hill Country.
Race Overview
Volunteering
Athlete Information
Course Map
Draft Legal
Park Map
Lodging
Supporters
Results
Contact
Race Overview
When: Sunday, April 15th, 2018. Race starts at 8am.
Where: Pace Bend State Park, Spicewood, TX (2011 Pace Bend Rd N, Spicewood, TX)
Race: Olympic Distance Triathlon (1500m Swim, 40km Bike, 10km Run)
Registration: Race entry is $100, or $75 for collegiate/high school athletes. Registration includes entry into the Olympic distance race, race morning park entry, an event t-shirt, and delicious post-race food.
Relay: Participants may form a relay team of 2 or 3 athletes of any category/gender. The timing chip will be passed from athlete to athlete in the transition area. Team captain should register for the entire team (put additional team members in the "Team Name" box at registration). Cost is $130 to cover additional park entries, shirts, and food.

Prices increase by $10 on March 1st, 2018. Registration closes on April 11th, the Wednesday before the race. Unfortunately, we are unable to issue refunds. Additionally, since Bevoman is a USAT sanctioned race, non-USAT members will be required to purchase a $15 one day membership.
Ready to register? Click here to register on RaceMill.
Volunteering
We need 80 volunteers to make this event possible. If you are interested in volunteering, please email bevoman@texastriathlon.org
Athlete Information
Bevoman Triathlon is a USA Triathlon sanctioned event, and will be following and enforcing the USA Triathlon Competitive Rules.
Wetsuits
Wetsuits are strongly recommended for your safety. Austin Tri Cyclist will be offering weekend wetsuit rentals for the weekend! Check out the current water temperature leading up to the race for an idea of what to expect. Water temperatures in early April are typically around 65°F.
Bike Course
Bevoman will be NON-draft legal. Officials will be on the course enforcing drafting and position rules. Helmets and handlebar plugs are required. Triathlon and time trial bikes are allowed given they meet the specifications in the USA Triathlon rules.
Awards
The collegiate division will be scored according to USAT's collegiate scoring guidelines for conference championship races. Conference commissioner Tim McCurry will be presenting the collegiate awards. The open wave will be scored by gender in age groups of 5 years. For example: Men 20-24, Women 20-24, Men 25-29, Women 25-29, etc. The max age group will be 50+. Additionally, there will be awards for fastest swim, bike, and run splits per gender, regardless of division. There will be no awards for the relay division.
Packet Pickup
All athletes must present a valid Photo ID to pick up their packet. If you are registering during packet pickup, you must additionally present proof of USAT membership or purchase a $15 one day membership.
Packet Pickup times/locations to be announced.
Course Map
PDF Download | MapMyRide Bike Course | MapMyRun Run Course
Transition Area: Transition area will serve as race headquarters. Bike racks are located to the east side of the Tatum Cove parking lot. Restrooms will be on opposite (west) side of the parking lot. Team tents, packet pickup, and sponsor tents will be set up in the middle of the parking lot. Post race food and awards will be located between finish and run out.
Course Description: Olympic Distance Triathlon – 1500m swim, 40km bike, 10km run.
Swim: Athletes will start in waves. The collegiate men's wave will start at 8am and subsequent waves will start in 5 minute increments. Each wave will start in the water, behind the first buoy. Athletes should swim along the outside of the buoys, keeping the buoys on the right at all times. Sighting buoys will be yellow, turn buoys will be orange.
T1: Athletes will run up the boat ramp upon exiting the water, turning right at the top of the hill into the southwest corner of transition. When exiting transition in the northeast corner, stay in the left lane and mount at the mount line shortly after transition. Follow the cones up the hill, and finally turn left while watching out for racers and other traffic merging into the main road.
Bike: The bike course consists of 4 laps of rolling hills with over 1000ft of elevation gain. All bike traffic should stay to the right, inside lane of the road. Although park traffic will be minimal, the outer road lane will remain open to traffic during the race. Note that between about 9.5km to 10km on each lap, the bike course will narrow down to around 6ft to accommodate bikes, traffic, and runners on the same road. Please be extra cautious here and avoid passing if possible.
T2: Upon finishing the 4th lap around the course, athletes will make a left turn back into transition. Be aware of other athletes and traffic. The dismount line is the same as the mount line, at the bottom of the hill next to transition. Be sure to slow down to safely make the turn at the bottom of the hill. Enter transition from the northeast corner and start the run through the same southwest corner that was used for T1.
Run: The run is an out-and-back course consisting of pavement and off-road trail terrain. Athletes should stay to the right of the course, to allow room for 2 way traffic. Aid stations will be located approximately every 3km. The finish line is located just before the grass field next to transition.
Draft Legal
We are currently working with USAT to sanction a Saturday afternoon Draft Legal race. The addition of a Draft Legal race is dependent upon sanction status. All below information is provisional and likely to change:
New this year we are adding a Draft Legal sprint to Bevoman. This will serve as a great tune up for the Draft Legal and Mixed Team Relay races at nationals. It's also a great opportunity for those that missed the qualifying cutoff and want to give Draft Legal a try in a fun, low pressure environment.
The Draft Legal race will take place Saturday, April 14th at 4pm. The race will not count for collegiate conference points.
Eligibility: Athletes racing draft legal must meet the following criteria:
Previously competed in at least one draft legal event – Draft Legal racing requires advanced bike handling skills. For the safety of all competitors, we are requiring draft legal experience so that group riding doesn't come as a surprise to anyone.
Bring a friend/teammate to volunteer – The addition of another race requires many more volunteers. Since a majority of our race volunteers will be arriving Sunday morning, we will need additional help on Saturday.
Contact race director Kyle Polansky (bevoman@texastriathlon.org) if you have any questions/concerns about these requirements.
Course
The Draft Legal course will be similar to the Olympic course with the biggest change being a 2 loop run. See the map below for details:

Park Map
Saturday Arrival: While you can camp anywhere in the park, we recommend camping near the improved campsites. This is where a majority of collegiate teams will be camping, and closest to all the action. Camping is NOT allowed near transition area as this area will be closed and cleared in advance of the race.
Sunday (Race Morning) Arrival: Please arrive early to allow ample time for parking and transportation to the transition area. You will be greeted by a volunteer at the park entrance that will validate free entry for athletes and volunteers. Spectator entry cost is $10/car, but you can save by carpooling with a participant. Upon entering, drive straight for 4 miles (red line on above map) until a parking volunteer directs you to turn for parking. Please drive slowly and watch out for athletes along the road. You can park anywhere in the grass field. Parking is not allowed near the transition area.
Athletes should gather everything they will need for the race and walk or bike approximately 1 mile (blue line on the above map) to the transition area. There will additionally be a limited number of shuttles running between parking and transition.
Lodging
Camping
Camping at Pace Bend Park is preferred. Nothing beats being able to wake up and walk to the race course! For $15 per vehicle (cash/check only), you can get a primitive camping pass, which allows you to set up camp in any open area of the park.
Pace Bend Park also has a limited number of improved camping passes for $20 per vehicle (cash/check only), which have access to sites with running water, electricity, and showers. All improved sites are reserved for collegiate teams racing at Bevoman, and assignments will be sent out a few days before the race. Please email us to reserve them. If you are not assigned improved campsites, don't worry! There will be plenty of primitive camping spots available.
Remember that you will need to bring your own tent, camping supplies, water, and food. For information, visit the Pace Bend Park Website.
Non-Camping Options
Inside the park, the Highland Lakes Camp and Conference Center baptist camp off offers group motel lodging. You can submit a reservation request on their website, but we cannot guarantee availability. Alternatively, a quick internet search will pull up other nearby hotels.
For those who are not staying in the park, we have arranged to pay park entry fees for all athletes and volunteers on Sunday morning arriving before 8am. On arrival, notify the volunteer at the park entrance that you are with Bevoman and they will give you an entry voucher!
Supporters: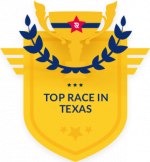 Interested in helping support Bevoman? Please email us for more information.
Results
2015 Race Results: http://www.texastriathlon.org/bevoman/results-2015
2016 Race Results: http://www.texastriathlon.org/bevoman/results-2016
2017 Race Results: http://www.texastriathlon.org/bevoman/results-2017
Contact
Have questions, comments, or suggestions? Contact race director Kyle Polansky at bevoman@texastriathlon.org